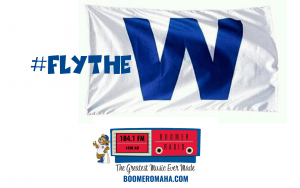 The Cubs are WORLD CHAMPIONS!  Sounds good, doesn't it?!?!
The Cubs Radio broadcast team includes Pat Hughes, Voice of the Cubs since 1996, and, former Cubs and MLB All-Star, color analyst, Ron Coomer.
Boomer 104.1 and 1490 will air all the Cubs games, with an easy option for true Boomer music fans to get their Boomer Music fix, by listening to non-stop Boomer Music streaming at Boomeromaha.com.
We thank our sponsors:
Push Pedal Pull, Alohma, C & M Gifts, Premier Bank, Ty's Outdoor Power, Pauli's Bar & Grill, and Heartland Family Services.
Get everything Cubs right here: http://chicagocubs.com