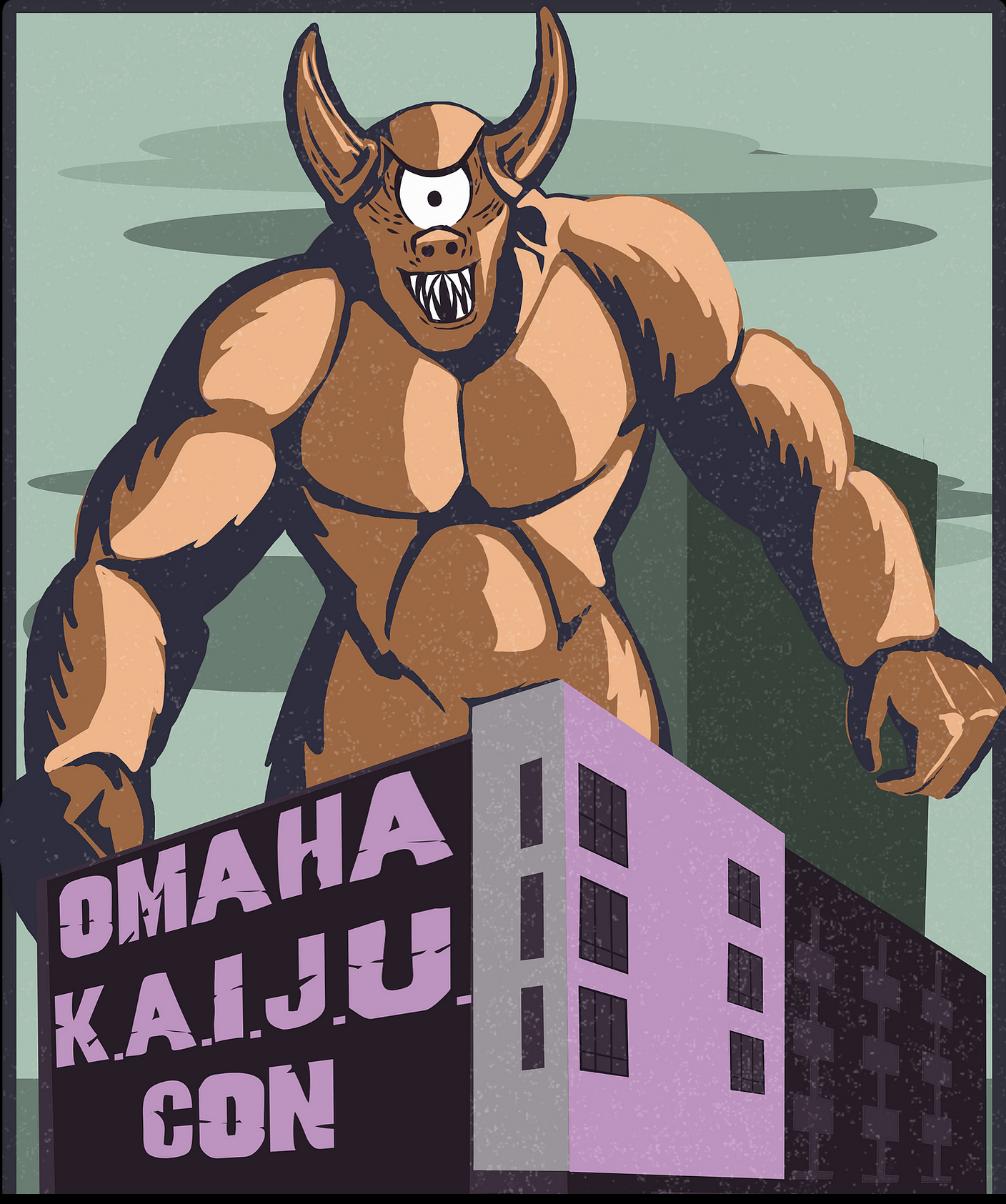 KAIJU: The Kaiju Adoration Institute Japan/USA LLC launches a new giant monster fan convention.
Omaha, Nebraska will host one of the rarest of fan based conventions starting in 2021, a giant monster fan convention. Fans of Godzilla, Gamera, Ultraman, Pacific Rim, and Power Rangers will now have a convention of their own on August 14-15. 2021 at the Even Hotel at 22nd and Farnam in Downtown Omaha. The convention will have board games about giant monsters (called Kaiju). Boardgames will be at scheduled times as well there will be open game tables to play games checked out from the onsite Kaiju game library. The movie room will host the Omaha premiere of Kaiju Bunraku, a short movie that mixes giant monsters with classic Japanese puppetry. Kaiju Bunraku was shown at the Sundance Film Festival. Additionally, it will show classic giant monster movies. Additionally, there will be a video game section featuring Godzilla video games throughout the years. If retro gaming is your style, or you just like fighting giant monsters tryout the video game section. KAIJU has also teamed with the local D&D Adventurers' League group to bring a few Kaiju D&D experiences to the convention. The panel room will host panels with different interests including How to Cosplay Kaiju and 3D Godzilla Art.
Featured guests include:
Sarah Bernard-Stevens, Kaiju Sculpture Artist
Josh Dahl, Godzilla Diorama Artist
Jon LeGrand, Godzilla Custom Model Maker
Robin Blevins, Kaiju Cosplay Guest
Brittney Rose Gohr, Cosplay Guest
Lizz Koehn, Kaiju Cosplay Guest
Matt Tichota, Ultraman Cosplay Guest
Rounding this out will be a fantastic selection of vendors selling giant monster merchandise throughout the convention.
So go on down for good old fashion giant monster fun! Tickets can be purchased at https://kaijuboard1.wixsite.com/kaijuthekaijuadorati
KAIJU: The Kaiju Adoration Institute Japan/USA LLC is a company that puts on a great family friendly convention for fans of giant monsters. They are based out of Nebraska.
The press contact for KAIJU: The Kaiju Adoration Institute Japan/USA LLC is Geoff Berman.